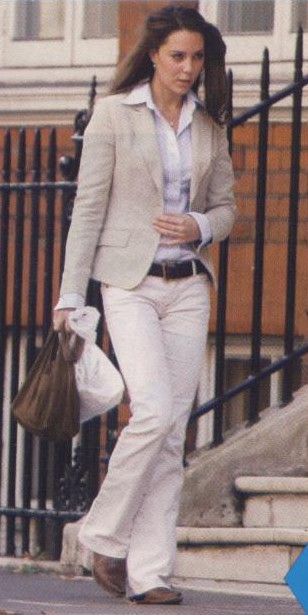 Kate Middleton:
Catherine (Kate) Elizabeth Middleton (born 9 January 1982) is the girlfriend of Prince William of Wales.
She was raised in Bucklebury, Berkshire, in the south of England, and attended the public school Marlborough College where she gained eleven GCSEs and three A-levels. Like the Prince, Middleton was a student at the University of St. Andrews in Fife, Scotland. She graduated in 2005 with a 2:1 (Upper Second-Class Honours) degree in History of Art.
She is the eldest daughter of Michael Middleton, an English businessman, and his wife, Carole. Her parents own Party Pieces, a mail order company that sells party accessories. She has two younger siblings, Pippa and James.
Middleton plans to create a company to design and sell children's clothing.
Her relationship with William:
While attending the University of St Andrews in 2001, Middleton met Prince William. At the time, Kate already had a boyfriend. William and Kate became flatmates in late 2002, at the beginning of their second year at St. Andrews. Kate and her then-boyfriend broke up around Christmas 2003, and Kate and William have since been involved in a relationship together. They were first seen together publicly in an April 2004 ski trip in Klosters. During 2005, the British media have speculated that the Prince and Kate plan to become engaged. It is believed that she has met the Queen at Balmoral, and that she approves of any union between the couple. However, as an engagement has yet to be announced, it is expected that one is unlikely to occur until after William's military career finishes at the earliest.
Middleton's status as the girlfriend of Prince William has given her widespread media coverage in the UK. She is often photographed on her day to day business. On October 17, 2005 she complained about harassment from the media, with her lawyer saying she has done nothing to court publicity. As she is not engaged to Prince William, she is not entitled to protection from the Royalty and Diplomatic Protection Department.
In December 2005, the German magazine Das Neue published photos of the exterior of Middleton's London flat revealing its location. This prompted a security review by police amidst concerns for her safety and a report in the London Evening Standard that Prince William was considering going to the European Court of Human Rights over concerns for the privacy of Middleton and himself.
In February 2006, it was announced that Kate would receive her own 24-hour protection supplied by the Royalty and Diplomatic Protection Department. This fuelled speculation that she and William would be getting engaged since she is not entitled to any. However, no such engagement has yet occurred. The issuing of protection maybe in part due to Kate and William's intentions to move in together. She was not awarded a Royal Allowance to fund the payment, but the cost was taken from that of William's father, Prince Charles.

Chelsy Davy:
This page has been deleted, and should not be re-created without a good reason.

~*~~*~~*~~*~
That is literally what it says on Chelsy Davy's page. Go and check for yourself if you don't believe me. Personally, I don't find Kate all that interesting. At least with Chelsy, there is something solid that you don't have to like. You can hate her because she parties so damn much. But with Kate...she seems so ordinary and normal. Normal people frighten me to no end. There is something there that I really hate, but I can't name it, and that drives me nuts. If anyone has any idea as to what that is, please enlighten me...I'm all ears. Unless you tell me its jealousy...because that's not what it is.